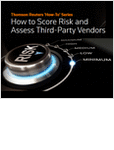 More than ever, financial firms are being held accountable for the compliance failure of their vendors. Establishing a risk scoring system can help protect firms and prevent liability.
This resource will discover best practices needed to properly score and assess risk by:
Initiating best practice steps,
Maintaining a quality risk assessment scoring system,
Ensuring enhanced due diligence and KYC / AML alignment of third-party vendors and
Achieving compliant third-party risk management.
read more