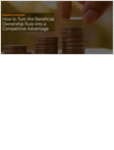 In an industry disrupted by legislative reform, institutions that repurpose the compliance cost center into a competitive advantage will emerge as the new market leaders.
For many institutions, the Financial Crimes Enforcement Network's (FinCEN) 2016 Final Rules may feel adversarial, forcing them to divert more internal resources towards compliance and the discovery of beneficial owners. But, fallout from the Panama Papers scandal and the emerging Bahamas Leak, along with enhanced scrutiny over state incorporation secrecy loopholes, further compels the culture of finance to evolve.
While regulatory disruption has improved the number of risk variables that financial companies must assess, early-adopters of new beneficial ownership rules will realize a competitive edge.
The following paper will explore the ways that covered institutions can leverage FinCEN's reforms to improve relations with regulators and investors, while optimizing business efficiencies.
Download today and get industry insights from the experts that know how to provide you the answers.
read more